The Paris and Normandy Diaries: Days Three and Four (Giverny, Lisieux, Caen, Bayeux, St. Honorine-de-Ducy)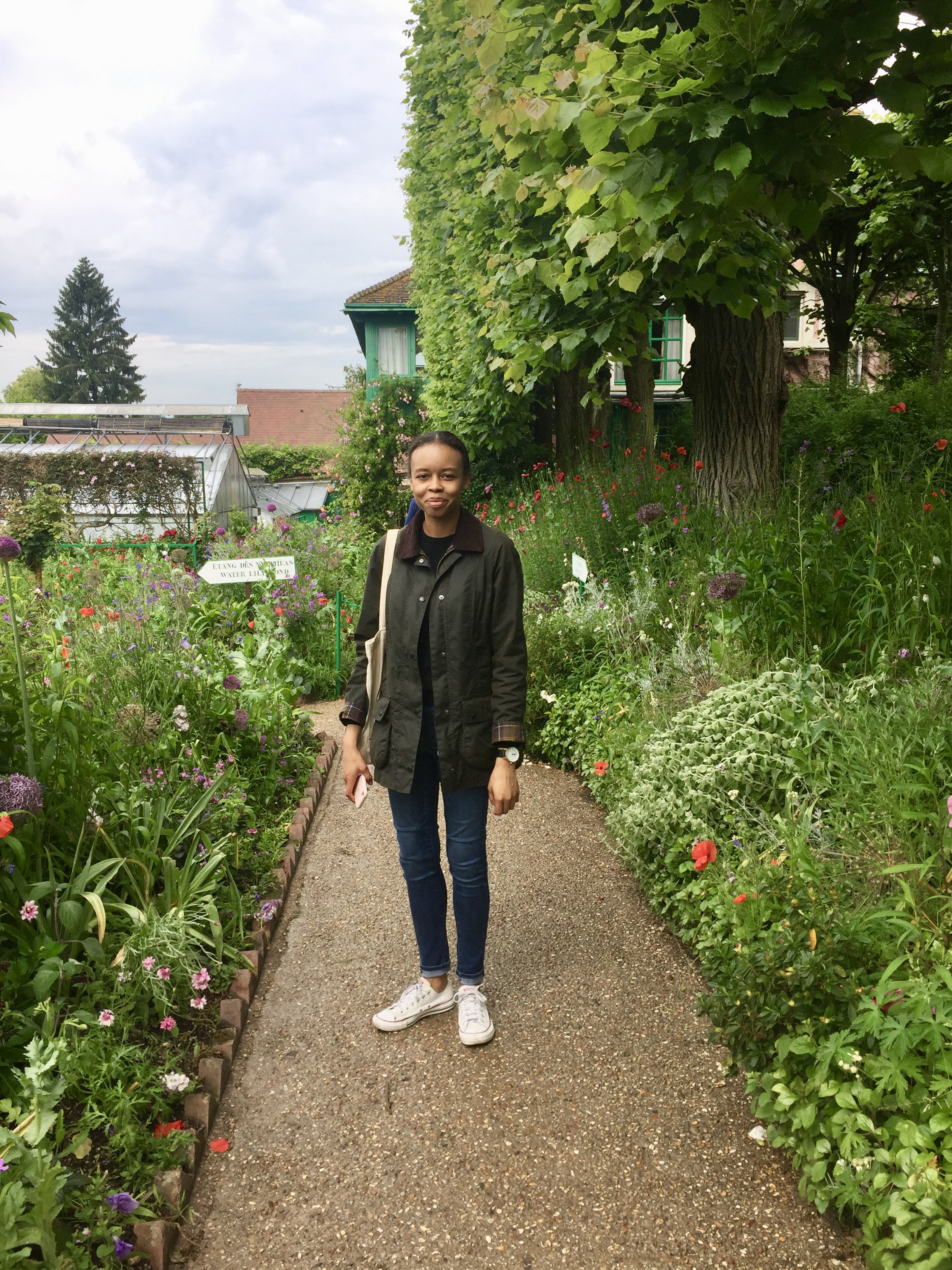 Giverny, Lisieux, Caen, Bayeux, St. Honorine-de-Ducy
This is the second in a series of posts about my trip to Paris. You can read part one here.
On Tuesday morning a hard rain was falling in Giverny, and around 10 am it reduced itself to a light mist. Alistair and I had breakfast in a cafe surrounded by flowers then we crossed a tiny street to Monet's house and gardens.
The morning mist made most of the flowers wilt, the leaves were still dewey, the sun hiding. It was hard to follow the long lines of people migrating towards the famous lily pond without getting slightly frustrated. I decided to admire the flowers as much as possible. White lily of the valley, peonies in bright pink, roses of every variety.

There was a circular path around the lake, so we followed it, pushing against the crowds to stop and take photos. To see the pond so frequently painted by Monet feels weird at first. I wanted it to be that hazy, magical patch-work of colors as it is depicted. But it's real and it has geometric angles and sharp lines, while still remaining beautiful.

We drove to Lisieux and my heart quickened. In my mind, I was finally going to meet St. Thérèse of Lisieux in her resting place. I was named after her. I lived my life inhaling her books and her life story. I had an Apologetics professor in high school who had seen her uncorrupt body and I was always jealous. But underneath all those thoughts, it couldn't be a more worst time to go. I feel like an embarrassment to the Thérèse name especially now, especially in the past seven months. I'm not anything close to the person I set out to be.
We saw the road signs leading the way to her basilica, and I said to myself, "I'm so sorry Thérèse."
We lit a candle in her basilica. There were Carmelite nuns praying in the nave. We walked through town to her final resting place. It began to pour. I closed my umbrella in the doorway and tip-toed through a darkened chapel. A wax figure of her, laying on a bed, head turned, covered in flowers, was there. I sat next to a man who was crying.
#
In Cambremer the sun came out. We'd booked a Airbnb in an old Normand-style farmhouse from the 1700s. The owner had a dog, a rabbit and several horses, which would make for an authentic Normandy experience, and that was what we were after.
We met the hostess and her little golden-haired dog named Sven. We asked for a property tour and she walked us out to a pasture far as the eye could see. She had at least eight horses that she rescued from the horse meat farms and we ducked under an electric fence and they came to meet us. One of them neighed appreciatively as we petted him. I love dogs, and always petted Sven when he ran around my ankles. In the kitchen he laid down at my feet and put his head on my shoe.
"Ah, he always knows when someone likes him, that is a good sign," the host said.
Late that evening we crossed through the town square and opened the door of Le P'tit Normand restaurant for dinner. The tiny front room was packed with locals and upstairs, where we were seated, a quieter more elegant dining room was filled with English tourists in town for the D-Day events. I had foie gras and shrimp and potatoes, cooked in a sauce made from local brandy. For dessert we had a delicate apple galette. We complimented it when the waitress took our plates. The young lady smiled sheepishly.
"C'est mon grand mere," she said. We learned that the entire restaurant was staffed and run by a family. The grandmother cooked and baked and her granddaughter and daughter were the servers. It doesn't get more authentic than that.
When we returned to the farm that evening, our host had put out a trio of Calvados, the local apple brandy, for us to try. We fell in bed around 11 pm.
#
The next morning our host put together a breakfast full of Normand treats: a rice cooked for hours in apple brandy, a cake made with red currant (another local specialty). There were no fewer than seven local jams to try, and a heavy, creamy yogurt with apples. We packed up our things and thanked her and Sven for the hospitality, then drove to Pegasus Bridge. Alistair explained on the drive that Pegasus Bridge was where D-Day officially began. The closer we got to the bridge, the more we saw vintage tanker trucks and veterans lining the roads. We parked and walked to one of the ceremonies. From there we went directly to the Caen Memorial Museum. On our way out a journalist for the wire came up to us an asked us a few questions about our Normandy tour. We thought nothing would come of it, but soon it would become the biggest surprise of the trip (more on that later).
We then went to Bayeux to view the famous Bayeux tapestries (fun fact: Alistair's ancestor was William the Conquerer, so it was very important to him). Bayeux is one of the larger cities associated with D-Day, and most of the streets were lined with barricades in preparation for the heads of state set to visit. A walk to the Cathedral took us past very old stone buildings, gardens and bubbling brooks. Then we got in our car and drove to our next hotel in St. Honorine-de-Ducy, the Domaine de la Fauvriere. When we went to check in our luggage was loaded on a golf cart and we were driven down a gravel road to a one room cabin with a wood burning hot tub. It was such a pleasant surprise, I forgot Alistair booked a lodge instead of a traditional hotel room.
The streets would be closing at 11 pm for the heads of state, so we needed to have dinner fast and return to the hotel. We picked a place near the water so we could tour Omaha beach and Pont-du-Hoc before eating.
It was cloudy and the beach was damp when we arrived. I was happy to see that the locals really respected the history of that beach where most of the battle took place. No one sun bathed, no one was swimming. A few reenactors in old garb drove vintage jeeps. At Pont-du-Hoc, where the most bomb damage is visible in gigantic craters, we walked down into the gun batteries and admired the coast from a lookout point. Its such a weird, sublime feeling. It's immediately beautiful -- the grass, the cliffs, the sea, the air blowing in from the UK -- but at the same time it is so devastating.
We went to La Trinquette for dinner. The place was full of Americans. There was a long table to our left of French and American people and two WWII veterans. They had the most amazing story: during the war the veteran had gotten acquainted with one of the local families. Ten years ago he went back to their house to see if they still lived there, and the families reconnected and were now dining together for the very first time.
That night we got in the wood-burning hot tub and listened to the sounds of the animals in the surrounding forest. The next day we'd go back to Paris.